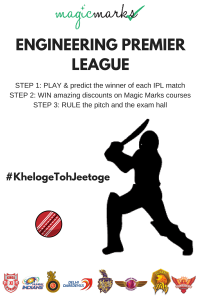 The IPL is back and this time with a whole new look. There are new teams, new players, new jerseys as well as renewed enthusiasm among the cricket-crazy fans of the country. Keeping in mind the pulse of the nation and T20 fever among the youth, we at Magic Marks have developed a fun game called the Engineering Premier League, which will not only test your knowledge of the sport but also provide you constant opportunities to win great discounts on Magic Marks products as well as free subjects of your choice.
What is Engineering Premier League?
Engineering Premier League (EPL) is an online IPL prediction game brought to you by Magic Marks for all engineering students. IPL is extremely popular among the youth in India and a big part of the youth pursue engineering studies. We have designed the game such that students will enjoy watching the match as well as win discounts that will allow them to buy their course subjects at lower prices. To explain in cricketing terms, it's two wickets with one ball.
All registered Magic Marks users are eligible to participate. New users need to sign up on Magic Marks to start playing the game.The game is simple. Users choose the team that they think will win the match on a particular day and submit their selection. The team submission has to be done before the scheduled start time of the match, which will either be 4pm or 8pm. Once their team is submitted, users will receive a confirmation mail. If a user's selected team wins, he/she wins a discount coupon that can be redeemed against any Magic Marks product (Study Packs and Web Courses) of the user's choice. Thus, a user stands to win a discount coupon every day by playing EPL. The discount coupons can also be clubbed together for higher amounts of purchase. The detailed breakdown is given as follows:
For purchases up to Rs.1000, you can use 1 coupon.
For purchases up to Rs.2000, you can club and redeem 2 coupons together, i.e. Rs. 400 discount.
For purchases up to Rs.3000, you can club and redeem 3 coupons together, i.e. Rs. 600 discount.
For purchases up to Rs.4000, you can club and redeem 4 coupons together, i.e. Rs. 800 discount.
Users cannot club more than 4 coupons together.
Play More, Win More
Besides the discount coupons, users also stand to win FREE Magic Marks courses, of their choice, as the tournament progresses. For every 5 wins a user gets, he/she is eligible to win a free course provided he/she has redeemed at least 1 out of the 5 coupons won. We are also creating a Leaderboard that will rank the top users as per a number of matches won. We will keep announcing the TOP 10 users on Facebook on a regular basis. The TOP 3 teams, at the end of the competition, will win free Study Packs from Magic Marks. In the case of a tie in a number of wins, the user who has redeemed more coupons, will be declared the winner. For more details visit www.facebook.com/magicmarks or www.magicmarks.in
So what are you waiting for? Select your team, enjoy the match and start winning along with the teams. Happy Playing! Happy Studying!
---